We empower you to make
(almost) everything.
FabLab Bangkok
FabLab Bangkok is a space for people to learn new tools, work with the latest fabrication technologies, and meet a creative community to help you make (almost) everything.
Lab Capabilities
3D printing
CNC-Milling
Circuit production
Laser
Precision Milling
Our FabLab serves as a catalyst for grassroots invention and rapid prototypes. We will empower every person and organization to participate in the creative economy by providing learning-, collaboration-, and creation opportunities. We strive to foster the open-source movement - this means that many of our designs are open-source, and can be used and modified by everyone.
Our FabLab offers not only access to state-of-the-art machinery, a beautiful co-working space but a transformational approach to designing and building products. By building a connection between the experts and learners we guide you from problem identification, research, design, prototyping to commercialization.
We collaborate with universities such as King Mongkut University of Technology Thonburi (link to KMUTT) research institutes such as Fraunhofer IZM (link to Fraunhofer IZM) to transfer cutting-edge research and technologies to both civil society and the industry. Our international Entrepreneurs in Residence at KX Knowledge Xchange help us to achieve that.
Join our community
The coworking space at our FabLab is the most flexible way to get stuff done and boosts your productivity while keeping your costs down.
You can always drop by our FabLab to explore the space, meet people or attend an event. You can see our event schedule (link to event schedule) here or request a tour (link to tour booking form) to plan your visit.
DesignXcel & Design Clinic
Catalyze innovation in enterprises by creating an environment that would facilitate knowledge flow and stimulate the generation of ideas and innovation. Equipped with modern facilities and amenities, Design Clinic will be a place where industry players, knowledge and technology providers, and public sector facilitators would meet, interact and showcase what they have to offser, so as to create partnerships and innovation alliances, and a culture of entrepreneurship.
Our Services
Industrial Prototype Design
Graphic Desgin
Design Seminars
Innovation Experience (IX)
We are engineer and researcher team from King Mongkut University of Technology Thonburi (KMUTT) and aim to increase Thailand's competitive advantage in the Digital Economy. We would like to plan and create a place where your interest is fulfilled and ideas are tuned into innovation.
We provide academic knowledge, facilities, and support to foster your innovation under our concept of innovation "Excite - Experiment - Explore". IX collaborate with 8 partner and FabLab Bangkok focusing and supporting Internet of Things (IoT) product development and ecosystem to empower entrepreneurs and inventors.
Excite
"Get inspired and discover your passion"
Be motivated, be inspired and drive your passion in the right environment
Inspiration talk (Ted talk style)
Growth mindset
Meets up event
Booth up camp
Design Thinking
Mock up / Ideas Pitching
Experiment
"Realize your passion and make it alive!"
Familiarize with the concept of lean start up and growth hacking. Your product ideas will be developed following these concepts:
Design Thinking workshop
Mockup / Ideas Pitching
Product Prototyping (HW & SW)
Product Validation
Design and Technical Coaching
Explore
"Launch & Learn"
Understanding productization and business development to transform your product to commercialization
Product development
Strategy and business development
Product Pitching
Networking
Business and Marketing Coaching
Makerstation & Digital Unite
We are a team of makers and digital fabricators with passion for building a better world and pursuit of personal growth. We spent years curating our workshop to offser the most complete range of digital fabrication tools, hand tools, and power tools in Bangkok. While providing various services to help you develop, modify, and make your hardware prototypes come to life, we are also documenting stories about our work to inspire people and share problem-solving ideas and knowledge about making, prototyping and digital fabrication. It is our strong belief that lifelong learning under the correct principles can create a long-term positive impact in our society. Hence, we are currently on an exciting path towards project-based learning curriculum and future skill traning for all. Stay tuned!
Our services include
Product Design and Development consultancy

3D modeling using CAD

Prototyping and on-demand service

3D Printing

(Prusa Mk3 i3, Markforged 0NYX Pro, Sindo 3D W0X1, Sinterit)

Laser cutting and engraving

(Grant BLC1006)

CNC Milling

(ShopBot, Roland Modela MDX-40A)

16 Speed Drill press - Winner

(Prusa Mk3 i3, Markforged 0NYX Pro, Sindo 3D W0X1, Sinterit)

Power tools

(Festool Makita Scheppach and Bosch)

Skills Development in digital fabrication, wood-working, electronics, and robotics

Technology training

Professional Development Training

Workshops
Electronics Design Laboratory (EDL)
Electrical and Electronics Institute (EEI)
We are engineer team from Electrical and Electronics Institute (EEI) to provide professional service and consultancy for small-lot manufacturing and industrial standard. Our team intentionally collaborates with FabLab bangkok and our partner to build innovative community as "bridge to industrial commercialization".
Innovative Inspiration making by Rapid prototype and Community
While we offer professional service to entrepreneur and innovator, we support SME and Start up for Electronics PCB (Printed Circuit Board) rapid prototype with consultancy and industrial facilities and build innovative communities to exchange and connect between advanced research and industries for technology commercialization.
Our service offer
Electronics & PCB design
PCB & Small lot assembly
Industrial Standard Testing: IEC, TISI
Providing small lot manufacturing by
Automatic Screen printer
Pick and Place machine
Reflow oven
Circuit board plotter for the RF and microwave range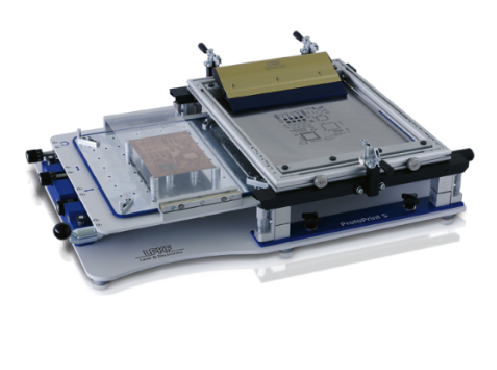 SMT Stencil Printer
PCB Through-hole Conductivity with out chemicals
Solder Resist Mask and Assembly layout
Software
Solidwork
Altium Designer 9
Workflow
Review information
Development process
Production
Review information
Assembly